At Maynooth Dermatology, services provided by DR O'Rourke are mole mapping/assesment, mole removal, skin biopsy, cyst, skin tag, wart, and ingrown toenail removal. Advice on general practice dermatology, including acne.
Dr. O'Rourke will continue to operate a skin clinic two days each week Monday/Tuesday and the following week, Wednesday/Thursday, at Maynooth Dermatology Clinic, Kingsbry Medical Centre.
Mole Check & Skin Appointments in North Kildare
Mole Check & Skin Appointments in North Kildare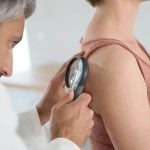 No need to wait. If you have a concern about a mole, skin lesion or ongoing skin condition, we can offer you a prompt appointment and easy access.
Dr. Christopher O'Rourke, Maynooth Family Dermatology, Kingsbry Medical Centre, Maynooth
Founder, M.B.B.Ch, BA.O, D.O.R.C.P.I., M.I.C.G.P., F.R.C.S.I. (Sports & Excercise Med)
Primary Care Surgery Association (Ireland), former treasurer and committee member. Primary Care Dermatology Society Member.
Dr. O'Rourke been awarded the Certificate in Dermoscopy Examination by Skin Cancer College of Australia.  F.R.C.S.I, M.I.C.G.P
Dermoscopy  examination  is the most  useful method of  evaluating  suspicious skin lesions,thus reducing the number of invasive biopsies.
Mole Mapping - Skin Cancer Assessment

€150 - €180 - Adult: Consultation plus Dermoscopy Exam €100 - Children
Biopsy Including Laboratory Examination

2 part fee structure, An operator surgical fee, this is usually paid by your private insurance providerFacility Payment €150 - This includes a fee for providing a minor surgery room, provision of once only use surgical equipment, set-up for specimen transfer and courier transport to pathology laboratory. Also includes advice and action re skin histology report and additional review consultation and if required removal of sutures. Not directly reimbursable from your insurance, but a separate receipt provided.
No skin cancer surveilance program can claim to be 100% accurate. It is therefore important to continue seeing your doctor or specialist for regular skin checks especially if you are at high risk of developing skin cancers. Regular self examination is extremely important.
A skin lesion/mole that is new, growing, elevated, hard, bleeds easily, not healing in 6-8 week should be evaluated even if you have had an annual or recent assessment. The doctor will take digital photographs, show and discuss same with you. Should you wish to delete the image record from file please inform Dr. O'Rourke.
Video Consultations Available.  Health insurance may reimburse a portion of fees.
Consultations by Appointment
Appointments available 9am – 2.30pm two days a week, Mon/Tues one week, Wed/Thurs the following week.
Happy to receive requests for consultation via email.  Please suggest a day that suits.
Maynooth Dermatology Clinic, Kingsbry Medical  Centre, 152 Kingsbry, Maynooth, Co. Kildare. W23 C677
Please contact Doctor on Duty Service 01 4539333 or your Video Doctor available through private health insurance VHI, Laya or Irish Life.
Please check these websites to increase your awareness of skin cancer, then make your appointment.