Dr. O'Rourke will continue to operate a skin clinic one day each week at Maynooth Dermatology Clinic, Kingsbry Medical Centre. The service provided will be mole assessment, mole removal, skin biopsy, cyst, skin tag, wart, and ingrown toenail removal. Advice on general practice dermatology, including acne.
Mole Check & Skin Appointments
Mole Check & Skin Appointments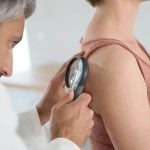 No need to wait. If you have a concern about a mole, skin lesion or ongoing skin condition, we can offer you a prompt appointment and easy access.
Founder, M.B.B.Ch, BA.O, D.O.R.C.P.I., M.I.C.G.P., F.R.C.S.I. (Sports & Excercise Med)
Dr Christopher O'Rourke has been treasurer and committe member of the Primary Care Surgical Association (pcsa.ie).
Biopsy including laboratory examination

€120 - €200
Video Consultations Available
Consultations by Appointment
orourkedoctor@gmail.com
(Not monitored 24/7)
Dr. O'Rourke cannot guarantee that al emails will be read and answered in a timely maner.  If your matter requires urgent attention self refer to the emergency services.
Maynooth Dermatology Clinic, Kingsbry Medical  Centre, 152 Kingsbry, Maynooth, Co. Kildare. W23 C677
Please contact Doctor on Duty Service 01 4539333 or your Video Doctor available through private health insurance VHI, Laya or Irish Life.